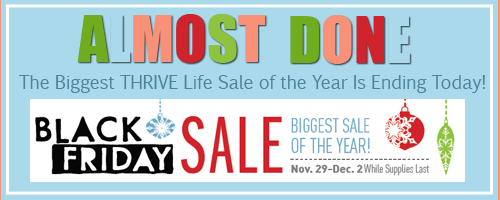 The THRIVE Life Black Friday weekend sale will be ending today (Cyber Monday) at 11:59 pm!  They have discounted all their popular food rotation systems (45%-58% off), and about twenty e-prep supplies.  In addition, ALL of their THRIVE food storage is on sale for the lowest price of the year, some as much as 50% off!
Here is what you need to know:
That's it!  Please do not hesitate to email me (Misty) with any questions.
Best,
Misty
PYP Thrive Rep
THRIVE@PinchingYourPennies.com