This week there are some great deals happening at Target!!  I noted the sunscreen coupons in the newspaper a few weeks ago.  I had hoped a great deal would pop up to use them and Target delivered!!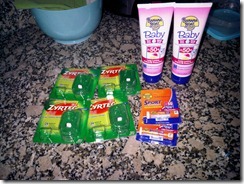 I bought:
2 Banana Boat Baby Sunscreens $7.44 – $2 Peelie and $1 MQ = $5.94 each
2 Banana Boat Lip Balm $1.79
4 Zyrtec $4.76 – $4 = $0.76 each
Total $20.95 on a gift card
Earned (2) $5 gift cards for the Banana Boat Purchases (1 sunscreen + 1 lip balm = $5 gift card)
Net Cost $10.95 for everything with tax!!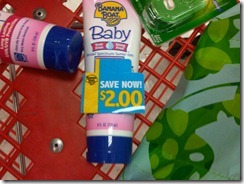 I definitely plan on grabbing some more sunscreen this week… I found one $2 peelie… I took a picture so that you could try and find some too. I also only found one sign in the sunscreen area, but I saw people buying different items including the lip balms for this deal so I took shot!
Cheap Zyrtec is always good to have on hand, allergies seem to hit us hard all of a sudden and allergy medicine an be pricey!