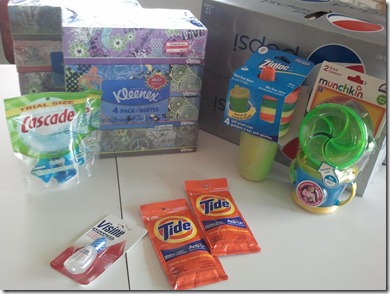 I ran into to Target to grab a few quick deals… this is what I bought:
2 Kleenex 4-packs clearanced $2.54- $1 TQ – $0.50 IP = $1.04 <—Works out to $0.26 a box!
4 Diet Pepsi 12 packs $2.50 – $1 TQ = $1.50 each <—Love cheap diet soda!!
2 Tide travel size $0.97 – $1 MQ = free <—Q expires today
2 Cascade trial size $0.97 – $1 MQ = free <—Q expires today but we got a new one last week
Visine Trial size $1.97 – $2 IP = free
Munchkin Snack Bowls $4.49
Ziploc 1st Years cups $3.99 <—I hope these darn things work… I am sick of cleaning up spills!
Here are some other things I saw in the store…
Lots of Back To School marked down 30%, some marked down 50% (Dry Erase Crayons and TowMater notebook for example) and even a few 75% off (globe).  Definitely keep you eye on this area!
This Grill was 50% off
This Grill was 30% off
30% off the swim stuff. We could use a 2nd vest!
And I saw a couple of bike/scooter type things marked down 30%. I will be watching this too….
And I happened to run across these new Playskool Heroes, Star Wars!! Fun!