Centurion by Liberty Safe
12 Cu. Ft. Executive Safe
Item #: 292952 Model: CE12-BK
Was $397.00
Now $297.00
LINK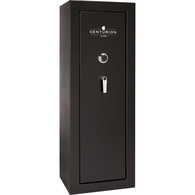 1200-1400°F (CE12 economy models include one layer of 5/8" fireboard or 55,000 BTUS)
Palusol heat-expanding seal included on all models, expanding up to 7 times it size in a fire at 212°F. Don't settle for inferior door seals used on cheaper safes.
Durable gloss textured black finish with satin chrome hardware
Defensive barrier of four active 1" diameter bolts
20 min. fire rated
Combination lock
3-in-1 Interior
4 - 1" Locking bolts
12.2 cu.ft.
1 year in- home warranty
14 long gun capacity
14 gauge steel body