Just in case you missed this article on shopping for kid's clothing on a budget the first time we shared it a couple of years ago, we are republishing it. After Marne wrote this blog originally, we got an awesome response. This is one of the PYP Best Blogs!
I you have kids around 11 years old or younger, there are several things you can do to save money on purchasing clothing. Once they get older it is more difficult, but it can still be done! All it takes is a little time, discipline, and desire. Here are some helpful tips.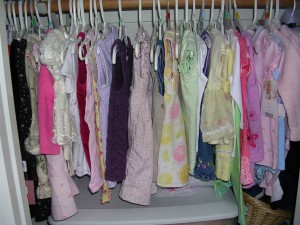 1. Shop at consignment stores. Many times you can find clothing in great condition at consignment stores, and pay significantly less than you would brand new. You do have to shop often if you are looking for something specific, but patience can pay off. Consignment stores are especially good for items like snow pants and boots in the winter, items that never wear out! Girls items like dance leotards and dance shoes are also in great condition, and much less than purchasing clothing brand new. If you are cleaning out your closets at home, you should consider taking your clothing and other children's items in good condition to the consignment store. You will get store credit or cash back for what they keep.


2. Hit up yard sales. This one will not work for everyone, but if you can, try it. Yard sale season is beginning now! If you get lucky you can find people selling their name brand clotheing for $.50-$1 each. I have found some great bargains this way.


3. Mend what you have. Instead of discarding jeans that have a hole, patch it. There are many creative ways online to patch a knee that younger children will love, while giving character to their outfit. Make jeans or pants that are too short into summer Capri's for girls. Make a long sleeve shirt into a short sleeve shirt. Take that old dress shirt from your husbands closet and turn it into a dress for your little girl. The options are endless! There are countless ideas online for things like this. My grandma used to always say, "Use it up, wear it out, make it do, or do without." If we think this way, we will waste and buy much less than we do.


4. Consider trading with friends. I have some friends that will give me their daughter's outgrown clothing. If you know someone that you can trade clothing with, it really helps! You can give them some, they can give you some. Works out great if you have children in ages that will compliment this idea.


5. Check the thrift stores. Stores like Goodwill, Savers, Deseret Industries, and such are good places to hit up for clothing. Especially when they have 50% off days. If you take the time to search the racks, often you can find brand new items with the tags still on them.


6. Remember that your kids don't need as many clothes as you (or they) might think. Kids tend to gravitate to the same outfits over and over. Why stock their drawers and closets with clothes and don't need to be worn? I like to have about two weeks worth of clothes, then I have found that laundry isn't out of control, their rooms are messy, and our budget thanks us. Look at their needs and meet those needs, not delving into anything extra.


How do you keep your kids' clothes budget under control?