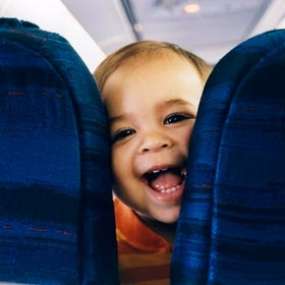 I've been writing a lot of tips lately on summer vacations, because spring is upon us and before you know it, it will be time to go on summer vacation, which I absolutely cannot wait for. Some of you may decide to take your family on a road trip to a destination, while some of you may decide that it's just simply better to fly instead. If you decide to fly to your vacation destination, I'm going to give you some tips that will make the whole process easier for you and your family, because flying with kids isn't going to be an easy task. Scroll down to check out some of my tips.
#1. Don't Become Discouraged
Sure, it's not an easy task to fly with your kids, but it's not an easy task to take your children anywhere. If you're able to take your children out to a sit-down restaurant without too much of a hassle, you'll be able to take your kids on an airplane.
#2. Dress Warm
Airplanes are typically somewhat chilly, so you may want to dress everyone in hoodies or sweaters. Coats are a bad idea, because they're bulky.
#3. Dress Simple
This goes along with the tip above. Dress as simple as possible, because bulky clothes (like coats) will get in the way. Also, you're going to go through security, so you may want to have all of your family members wear slip-on shoes, because they will have to come off during security checks. Also, keep in mind how small airplane bathrooms are. You don't want to be in an airplane bathroom and have to take layers of clothing.
#4. Let the Kids Play
Most airports are now starting to include play areas for children. Allow them to play in these areas before going through security, so they wear themselves out. That way, they won't mind as much when they have to sit for hours in an airplane.
#5. Bring Wipes
Wipes are something that every parent needs to keep readily available to them, because kids will make messes and get sticky hands. I suggest you keep wipes easily accessible, even on the airplane.
#6. Bring an Easily Accessible Change of Clothes
Accidents happen sometimes and there's nothing you can do about it. One of your kids may spill a cup of orange juice on themselves and you'll have to clean them up. It's important that you bring an extra pair of clothes for each child that will be easily accessible in the event that they make a mess.
#7. Bring Chewing Gum
Pressure during takeoff can really hurt your children's ears, so bring some chewing gum and offer each of them a piece before takeoff. Yes, this really does help with the pain.
#8. Sit in the Back
The back is typically going to be the best area for a family, so you don't bother as many people.
#9. Bring Toys / Entertainment
It's important that you bring some type of toys for your children, because they will definitely want to play with something on the plane. Try to bring toys that don't make noise and won't make a mess.