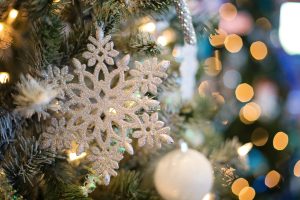 Are you trying to figure out how to afford a tree this year? Not to worry! There are some great ideas out there on getting a tree and decor at a very low cost.
The world is a bit crazy and very expensive right now and I get it. Due to a sale fail on my home all of my Christmas stuff is buried at the back of our storage unit and there was just no way that I was going to dig through it to try and find it. That being said, I'm on a super tight budget this year so I needed to try and figure out how to get our Christmas tree and decor as cheap as possible. If you are also looking for how to get and decorate a tree on a budget, check out these tips. 
How to Get and Decorate a Tree on a Budget
Go to the Forest
You are able to cut your own tree down from most National Forest locations for a small $5 fee. Go to this website to get your permit. 
Check Out Your Local Buy Nothing Group
Check out Facebook for your local Buy Nothing Group (most communities have them). This year I have seen tree stands, fake trees, ornaments, and household decor all being given away this year on my local Buy Nothing group. 
FB Marketplace
If your Buy Nothing Group doesn't have what you need, be sure and check out the FB Marketplace in general for deals on trees and decor. Locally on FB Marketplace I spotted a 6 foot tree for $10, a huge box of ornaments for $5 and more!
Ask Friends and Family
Ask your friends and family if they happen to have any Christmas decor that they don't plan to use anymore. I know I always have leftover stuff every year that I would be happy to give away to any of my loved ones that asked for it.