Kohl's Cyber Week Sale!
Right now we have a 20% off code that will be active during the Kohl's Cyber Week sale. There will not be a 30% off code.
Percent Off Codes:
Take an extra 20% off – DEALSEEKER – valid 11/28-12/1
Stack with:
Take an extra $10 OFF an apparel purchase of $50 or more, select styles – JACKPOT – exp 11/30
Free Shipping on $25. No code required.
or
Buy online and pickup in store.
Redeem your Kohl's Cash – 11/30 – 12/6.
KOHL'S Cyber Week SALE!!!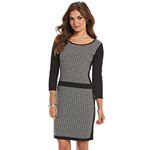 Chaps Houndstooth Sweaterdress – Women's
Original $110.00
$58.99
*$39.19 after stacking codes!