Latest Blog Entries
Saving on your Internet bill isn't something that you probably ever knew was possible but believe it or not, it is. We're going to teach you exactly how to do that with this list of 4 Ways To Save On Your Internet Bill. Sure, some of these methods are pretty basic but that's not what's important. What's important is the fact that they do work and will save you a decent bit of cash every single month. This is great for stay at home mothers, those of you that work from home, and anyone that is looking to save even more of your valuable cash!
Bundle It Up
This is one of the most common but effective ways to cut down on your Internet bill. Most providers offer bundles in which you can save money on not only your Internet bill but also on your Cable and Phone bill as well. Typically, you can expect to knock off around $10. One example is that Charter Internet is usually $40 a month but in a bundle, it's only $30.
Wait For A Promotion
If you're not currently in a contract or haven't signed up for home Internet yet, wait for a good promotion. Every major provider runs promotions on a regular basis and you may be able to save a set amount of money for a large portion of your contract (if you even have to sign one). Make sure you read the fine print though as the price could skyrocket fast.
Consider A Slower Speed
Unless you're running a home business, you don't need Internet that is 150 megs. In fact, you probably don't even need a speed that's all too common such as 30 megs. Going with a speed between 6 to 10 megs is sufficient for 90% of the people that use the Internet. You'll find that you save a ton of money and you won't be suffering from old, slow dial up speeds.
Hard Wire It
Okay, we won't use too much tech-worthy lingo but what we basically mean by this is that you could always consider moving your desktop (or laptop) near the actual router. Most any provider which charge you more money per month for a wireless router and unless you're on tablets and your smart phone at home, you probably don't even need it. If that's the case and you can live without wireless internet, you'll definitely save a few extra dollars.
Now, if you incorporate all 4 of these tips into one big bundle, you could definitely save $20, $30, or even $40 a month on your Internet bill. That's pretty much enough money to get a spare cell phone, fill your car up with gas, or even go out for a nice steak and sushi dinner. Regardless of where you spend the money that you save on your Internet bill, the fact of the matter is that you're saving money and we think that's very cool! So, what are you waiting for? Start working on this now and you can thank us later for the savings!
Flash Sale! Footwear up to 70% off! Offer valid Wed. 3/12/14 4 pm EST to 12 am EST midnight – 8 hrs only
Take an additional 30% off clearance when you enter promo code EXTRA30 at checkout. – exp 3/15

Long Sleeve 1987 Henley
$34.50
Now $10.00
*$7.00 after code!

LLD 3/4 Sleeve Mesh Sweater Hoodie
$49.50
Now $12.99
*$9.09 after code!

3/4 Sleeve Open-Stitch Plaited Sweater
$59.50
Now $12.99
*$9.09 after code!
Take an additional 30% off clearance when you enter promo code EXTRA30 at checkout. – exp 3/15
25% Off Green With Envy Category – St. Patty's Day Merchandise. Offer Valid 3/12 to 3/14
Vanity.com LINK
$3.99 Sale! One Day! Online only!
Earn Gymbucks now! Spend $50 and get $25 to spend in April!

CUTE Tees
reg: $14.95
now: $3.99

FUN Leggings
reg: $14.95
now: $3.99
SO much more!
$3.99 Sale! One Day! Online only!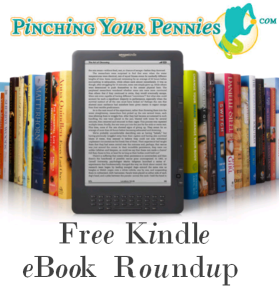 Every day, Amazon offers some great discounted Kindle ebooks. The Kindle Daily Deals have prices ranging from $1.99-$2.99, and they are discounted for one day only. There's also usually a decent selection of Kindle books under a penny as well…
Here are a few Kindle freebies you might be interested in today!
Biographies, History, & Memoirs
Business & Money
Children's eBooks
Cookbooks, Food & Wine
Crafts, Hobbies & Home
Health, Fitness & Dieting
Mystery, Thriller & Suspense
Parenting & Relationships
Romance
Teen & Young Adult
You don't even need a Kindle e-reader to be able to read Kindle books. You can read it on your PC, iPhone, iPad
, Blackberry and Android. Just download (for free!) the appropriate application to be able to do that. Amazon changes prices without notice, so make sure to check that the Kindle book you're downloading is still FREE beforehand.
Calvin Klein Inspired Ladies Leather Watch $17.99 + Free Shipping
Tanga.com LINK

Dell Optiplex GX620 2.8GHz DualCore SFF Desktop PC $184.99 + Free Shipping
Think Easter! This is the sale that you want for filling those Easter eggs and baskets!
Get free standard shipping on any order! Enter promo code FW11FS14 – exp 3/13

LifeSavers Pastels
was $4.25
$3.78

Bunny Roll Tape Gum
was $6.25
$4.98

Bunny Wall Tumblers
was $6.00
$3.98
Get free standard shipping on any order! Enter promo code FW11FS14 – exp 3/13

If you haven't printed the new $3/2 MARS Bites coupon yet, what are you waiting for! When you stack this coupon with a Walgreens store coupon, you can snag a great deal this week!
Buy 2 Snickers Bites and/or Milky Way Bites on Sale 2 for $7
Stack with $1/2 Mars Snickers Bites, 8 oz or Milky Way Bites, 7 oz (Walgreens March Savings Book)Final Price: $3 wyb two ($1.50 each!)
You can also snag a pretty good deal on Suave body wash and lotion this week!