Latest Blog Entries
Free shipping on EVERYTHING – exp 3/9

AE Heritage Fleece
was $39.95
$11.99

AE Real Soft Heritage Fleece
was $34.95
$14.99
Free shipping on EVERYTHING – exp 3/9
Save 20% on online orders of $50 or more
Use code 555430 at checkout! Valid through 3/9. Some exclusions apply.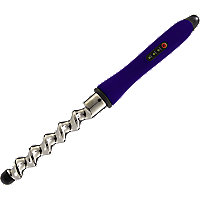 Ion Titanium Pro Spiral Iron
Online Price: $49.99
You will need a small filler item to bring your total over $50. Something like this…

China Glaze Crackle Glaze Collection
Prices From: $0.99 – $1.99
Deep-pocket sandwich grill cooks 1 or 2 sandwiches at a time! Browns and seals with a diagonal indentation for slicing in half!
Cuisinart Dual-Sandwich Nonstick Electric Grill
List Price: $40.00
Price: $17.99
You Save: $22.01 (55%)
Eligible for free shipping on $35+ orders or on ANY order with Amazon Prime.
Don't have a Prime membership? Get a one month free trial! Click here for details!
$5 off $75 New Customers with code
RAISE75AF Raise.com LINK
Make Too Faced your Spring Fling and save up to 70% off Sale items! Offer ends 3/12/14. Shop now!
Deals like…

Deluxe Tanning Bed in a Tube
Was $15
Now $7

Tanning Bed in a Tube
Was $28
Now $10

Tinted Beauty Balm
Was $34
Now $15
Transforms from a floor toy into a 2-way learning table. 6 learning stations.
VTech Sit-to-Stand Learn & Discover Table
was $32.99
now $20.00
Free in-store pick up!

Custom Photo Placemat – Only $2 – Save $6.99!
Use Code:
YOURPLACE
. New Customers Only. S&H Not Included. Quantity Limit 1. One Use. Cannot Combine Coupon Codes. Exp. 04-02-2014.
Standard Shipping On 1 Placemat: $5.99

I love this coupon!
This $5.00 off any two Almay Cosmetic Products was around for a little bit yesterday, but quickly disappeared. Today, it has reset, and it now specifically includes makeup removers.
Smal jars of makeup removers (15 count) sell for $1.14 at Walmart, which means you could have a $2.72 money maker with each $5.00 off any two Almay Cosmetic Products you're able to print.
This might print with an ad at the bottom of the page, though. Thanks for the heads up, Common Sense With Money!