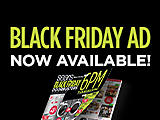 Ready for Black Friday? Black Friday ads are here! Check out all of the great deals and plan your shopping now! Make sure you take a peek at all of the Black Friday ad scans available on PinchingYourPennies!
Codes:
EXTRA $35 off Sears.com orders of $300 or more with code SEARS35OFF300
Online Only! EXTRA $20 off Fitness orders of $250 or more with code FITNESS
Exclusive Offer! EXTRA $15 off qualifying Tool orders of $75 or more with code SAVE15
Exclusive Savings! EXTRA $5 off Sears.com orders of $50 or more with code SEARS5OFF50
Exclusive Offer! EXTRA $5 off Sears.com orders of $50 or more with code SEARS2014
Exclusive Offers! EXTRA $50 off Appliances orders of $300 with code SEARS50
EXTRA $10 off orders of $75 with code 10OFF75
This year, the Sears Black Friday sale starts at 6:00 PM on Thanksgiving, but I'm sure that many of the online deals will go live well before then, so keep checking back!
You'll find a huge list of Sears Black Friday sale items below. In preparation for the sales, it's a good idea to check out the items you're after online first. You may even want to bookmark them in a special Black Friday Folder on your bookmarks bar so you can access them quickly and easily when shopping time rolls around. You can drag these links to your bookmarks bar or folder to access them quickly later.
Seiki DVD Player
— $19.99
Samsung Blu-ray Player
— $49.99
Samsung Blu-ray Player w/ Built-in WIFI
— $54.99
Nakamichi 2.0 Channel 90W Bluetooth Soundbar w/ Wired Subwoofer
— $49.99
PNY 2200 Power Bank Chargers
— $14.99
Samsung 2.1 Channel 120W Bluetooth Soundbar w/ Wired Subwoofer
— $89.99
Samsung 2.1 Channel 280W Bluetooth Soundbar w/ Wireless Subwoofer
— $159.99
Vivitar Bluetooth Mini Speakers
— $9.99
Vivitar Bluetooth On-Ear Headphones
— $29.99
FunTab 2.7′ Kids Tablet
— $89.99
Samsung Galaxy Tab 4 10.1′ Tablet
— $249.99
Samsung Galaxy Tab 4 8′ Tablet
— $199.99
Samsung Galaxy Tab S 16 GB 10.5-inch Display Amoled Tablet
— $399.99
Trio Stealth G4 10.1′ Quad Core Tablet
— $99.99
Trio Stealth G4 7′ Quad Core Tablet
— $59.99
Altec Lansing Bluetooth Orbit Speaker w/Clip & Pouch
— $34.99
iLive Wireless Bluetooth Headphones
— $49.99
Canon T5 DSLR Camera
— $399.99
Kodak 16MP PIXPRO Astro Zoom Digital Camera
— $149.99
Nikon L830 Digital Camera
— $169.99
RCA 40′ LED 1080p HDTV
— $249.99
RCA 46′ 1080p 60Hz LED HDTV
— $299.99
RCA 52′ LED 1080p HDTV
— $379.99
Samsung 32′ 720p 60Hz LED HDTV
— $199.99
Samsung 39′ 1080p 60Hz LED HDTV
— $299.99
Samsung 40′ 1080p Smart HDTV
— $329.99
Samsung 55′ 1080p 120Hz Smart HDTV
— $599.99
Samsung 55′ 1080p 120Hz Smart LED HDTV
— $799.99
Samsung 55′ 1080p 240Hz Smart 3D HDTV
— $999.99
Samsung 60′ 1080p 240Hz Smart 3D LED HDTV
— $1,299.99
Samsung Curved 65′ 4K UHD Smart HDTV
— $1,999.99
Sharp 60′ 1080p 240Hz Smart 3D HDTV
— $1,199.99
Upstar 32′ 720p LED HDTV
— $169.99
Craftsman 1/2′ Deep Impact Sockets
— $39.99
Craftsman 1/2′ Impact Air Tool
— $24.99
Craftsman 1/2HP Chain-Drive Garage Door
— $139.99
Craftsman 10-in. Sliding Miter Saw
— $169.99
Craftsman 10-in. Table Saw
— $179.99
Craftsman 10-pc. Ratcheting Wrench Set
— $29.99
Craftsman 10′ Rail Forward Sliding Miter Saw
— $229.99
Craftsman 100-pc. Drill/Drive Set
— $12.49
Craftsman 108-pc. Mechanic's Tool Set
— $44.99
Craftsman 11-Drawer Ball-Bearing Tool Chest
— $199.97
Craftsman 12′ Drill Press w/ Laser & Light
— $169.99
Craftsman 12amp Electric Blower/Vacuum
— $34.99
Craftsman 12V Inflator
— $17.49
Craftsman 140-pc. Mechanic's Tool Set
— $69.99
Craftsman 17-pc. 1/4′ Drive MACH Series 3/8′ T-Handle Kit
— $19.99
Craftsman 17-pc. Screwdriver Set
— $14.99
Craftsman 182-pc. Mechanic's Tool Set
— $119.99
Craftsman 19-pc. Universal Max Axess Set
— $34.99
Craftsman 19HP Turn Tight Riding Mower
— $1,199.99
Craftsman 2 1/2-ton Floor Jack
— $39.99
Craftsman 2 1/4-ton Jack w/ Stands
— $44.99
Craftsman 2.5-gal Wet/Dry Vacuum
— $24.99
Craftsman 20-pc. Ratcheting Set
— $49.99
Craftsman 20′ 50cc Gas Chain Saw
— $149.99
Craftsman 20′ Plastic Handbox
— $9.99
Craftsman 200m-ph/430-cfm Gas Blower
— $79.99
Craftsman 22′ Dual Stage Snow Thrower
— $399.99
Craftsman 22HP V-Twin Zero Turn Riding Mower
— $1,999.99
Craftsman 24′ Dual Stage Snow Thrower
— $579.99
Craftsman 25cc Gas Trimmer
— $79.99
Craftsman 26-pc. Combination Wrench Set
— $37.49
Craftsman 3-Drawer Project Center
— $99.99
Craftsman 3-pc. Pry Bar Set
— $19.99
Craftsman 3/8′ Drive MACH Series Ratchet
— $19.99
Craftsman 3000-PSI Gas Pressure Washer
— $299.99
Craftsman 39-pc. Standard or Metric Tap & Die Set
— $49.99
Craftsman 4-gal. Five-Peak HP Wet/Dry Vacuum
— $64.99
Craftsman 40-in. 19-Drawer Premium Heavy-Duty Ball-Bearing Tool Chest
— $699.98
Craftsman 42-pc. Master Bit Socket Set
— $29.99
Craftsman 42′ Snow Blade
— $199.90
Craftsman 52-in. 20-Drawer Premium Heavy-Duty Ball-Bearing Tool Chest
— $999.98
Craftsman 54-pc. Driving Set
— $10.99
Craftsman 58-pc. Mechanic's Tool Set
— $24.99
Craftsman 6′ 2-pk. Bar Clamp
— $9.99
Craftsman 8-pc. Combination Wrench Set
— $9.99
Craftsman 8-pc. Screwdriver Set
— $9.99
Craftsman 8′ Max Axess Locking Wrench
— $12.49
Craftsman 85-pc. Universal Max Axess Set
— $69.99
Craftsman 9-pc. Combination Wrench Set
— $19.99
Craftsman C3 19.2V 2-pc. Drill/Circular Saw Combo Kit
— $79.99
Craftsman C3 19.2V 4-pc. Lithium-Ion Combo Kit
— $159.99
Craftsman C3 19.2V Brad Nailer
— $109.99
Craftsman C3 19.2V Lithium-Ion 3-speed Impact Driver
— $99.99
Craftsman C3 19.2V Lithium-Ion Drill
— $59.99
Craftsman C3 19.2V XCP 4Ah Battery Pack
— $69.99
Craftsman Digital Gauge
— $13.49
Craftsman Garage Door Opener Connectivity Hub
— $49.99
Craftsman Hydraulic Bar Stool
— $49.99
Craftsman MACH 8′ Adjustable Wrench
— $19.99
Craftsman MACH Series 53-pc Starter's Tool Set
— $39.99
Craftsman MACH Series 83-pc Complete Tool Set
— $69.99
Craftsman Mechanic's Adjustable Sear
— $19.99
Craftsman My Stride Rear Wheel Drive Mower
— $259.99
Craftsman Pocket Screwdriver w/ USB Charging
— $14.99
Craftsman Router & Router Table Combo
— $79.99
DeWalt 20V Max Lithium-Ion Drill/Driver
— $99.99
Diehard 140W Inverter
— $17.49
Diehard 6-gauge Booster Cable
— $17.49
Donner & Blitzen 7.5-ft. Pre-Lit Harrison Cashmere Pine Tree
— $129.99
Dyson DC 40 Origin Upright Vacuum
— $299.99
Dyson DC 65 Animal Complete Upright Vacuum
— $499.99
GearWrench 32-pc. Ratcheting Wrench Set
— $79.99
Gladiator GrearTrack or GearWall
— $99.99
Holiday Showtime 7-ft. Northern Lighths LED Spruce
— $189.99
Kenmore Bagged Canister Vacuum
— $359.99
Kenmore Bagged Upright Vacuum
— $249.99
Kenmore Bagless Upright Vacuum
— $224.99
Kenmore Progressive Bagged Canister Vacuum
— $179.99
Kingcraft Twin Pack Sawhorses
— $12.49
Masterforge 6-pc. Wrench Set
— $9.99
Trimming Traditions 6-ft. Airblown Snowman, Santa or Peguin
— $19.99
Black & Decker 4-slice Toaster Oven
— $24.99
Cuisinart Grind N' Brew Programmable Coffeemaker
— $59.99
Hamilton Beach 2.5L ProFyer
— $19.99
Hamilton Beach 4-qt. Slow Cooker
— $9.99
Hamilton Beach Classic Hand/Stand Mixer
— $24.99
Hamilton Beach Flip Waffler
— $19.99
Kenmore 1.5-qt.Triple Slow Cooker
— $19.99
Kenmore 1.6-cu ft. Over-the-Range Microwave
— $149.99
Kenmore 12-cup Programmable Coffeemaker
— $19.99
Kenmore 4-slice Digital Toaster Oven
— $19.99
Kenmore 4-slice Toaster
— $19.99
Kenmore 6-speed Blender
— $19.99
Kenmore Elite 1.5-cu. ft. Over-the-Range Convection Microwave
— $369.99
Keurig Elite Programmable Brewer
— $99.99
KitchenAid 5-qt. Bowl Lift Standmixe
— $199.99
KitchenAid Artisan Series 5-qt. Stand Mixer
— $389.99
Mr. Coffee 12-cup Programmable Coffemaker
— $24.99
NutriBullet
— $89.99
Powerblend Duet Blender/Food Processor
— $59.99
Presto Dual Basket Deep Fryer
— $39.99
Proctor Silex 2-slice Toaster
— $4.99
Proctor Silex 5-speed Hand Mixer
— $4.99
Proctor Silex Coffee Grinder
— $4.99
Rival Cook N Carry Slow Cooker
— $19.99
Sunbeam Toaster Oven
— $13.99