Just in case you missed this DIY article on making a jewelry organizer the first time we shared it a couple of years ago, we are republishing it. After Marne wrote this blog originally, we got an awesome response. This is one of the PYP Best Blogs!
I have been wanting to organize my jewelry for awhile. It has been a heaping mess for quite some time! Here is what I came up with – a fun and easy jewelry organizer! Sorry, I didn't take any before photos, but I can tell you what I did, it was really easy!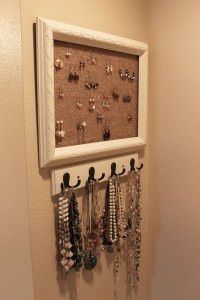 Supplies
Old empty frame ($1.49 at Goodwill)
Burlap sack (already had)
spray paint (already had)
hook thing for my necklaces (already had)
staple gun
screwdriver


First I spray painted primer on my frame. It was a really ugly blue. Then I did a couple coats of my favorite spray paint, Rustoleum Antique White, that you can buy at Lowe's. Then I cut up an old burlap sack I've had in my garage for years (yes, I did wash it first!). I stretched it tight behind the frame then used the staple gun to secure it. Easy and fast!


Then the holder my necklaces are on I have had in my garage for a few years, it was an ugly cherry wood color. It used to be used to hang coats on before we redecorated our family room. So all I did is use a screwdriver to take off the hardware, spray paint with Antique White, then put the hardware back on. Super easy!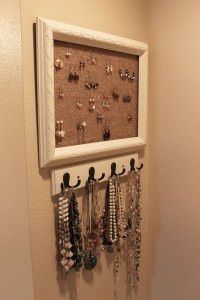 I LOVE how my jewelry organizer looks! Fits my style and my budget! Talk about pinching your pennies. Look around your house to see what you already have before starting a project. You might be surprised to find things that will work, with a little spray paint and imagination.