Latest Blog Entries

Little Princess Minky Blankets
REG PRICE: $30.00
DEAL PRICE: $23.99
SHIPPING: $4.99

6-Foot Chalkboard or Whiteboard Wall Decal
REG PRICE: $39.99
DEAL PRICE: $9.99
SHIPPING: FREE
Plus lots more!
Mini-BOOM Wireless Bluetooth Speaker with Rechargeable Battery $8.99 + Free Shipping
Deal of the Day – Bosch 265-Feet Li-Ion Laser Distance Measurer
was $249.00
(48% off)
$129.99
Bosch's GLM 80 265-feet laser distance and angle measurer enables pros and DIYers to take quick and accurate measurements. Compact and lightweight, it's ideal for electricians, contractors, painters, masons, and builders to calculate distance, area, volume, or angles with precision.
LINK to Gold Box Deals at Amazon
Eligible for free shipping on $35+ orders or on ANY order with Amazon Prime.
Don't have a Prime membership? Get a one month free trial! Click here for details!
New at Zulily! Heritage Collection by MUK LUKS – up to 70% off – sweater boots & slippers!
A tribute to MUK LUKS' roots, the Heritage Collection combines traditional patterns, classic silhouettes and cozy, feel-good textures for truly timeless style. Together with MUK LUKS' famous seasonal goodies—sandals, moccasins, mittens and hats, to name a few—these foolproof pieces deserve a special spot in your everyday wardrobe.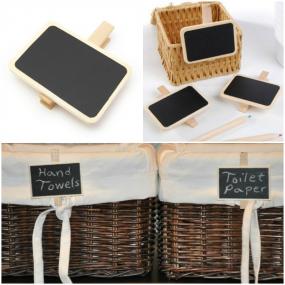 The Uses Are Endless….set Of 5 Mini Blackboard Clips
$4.99
*$4.24 after code
Use code 15PINCH to get 15% off Sitewide, no minimum purchase
Valid through 10/31
New at Zulily! LEGO Collection – up to 55% off – apparel, gear & books!
Though it all began with the world-famous building brick created in the 1950s, the creative minds at LEGO have continued to provide innovative toys, activities and teaching materials for children in over 130 countries. Even their name—a combination of the Danish words for "play" and "well"—is synonymous for fun, and known and loved around the globe!
Today only, subscribe to Runner's World Magazine for only $5.99 per year (69% off)! You can order up to 4 years at this price! Just enter coupon code 9036
This offer expires at Wednesday 10/22/14 11:59 PM EST EST

Today only, subscribe to Saveur Magazine for only $4.99 per year (74% off)! You can order up to 3 years at this price! Just enter coupon code 4263
This offer expires at Wednesday 10/22/14 11:59 PM EST EST