These are for sure some PYP favorites!  Here are the details:

Mix & Match BOGO 50% off Almost Everything + Free Shipping!Tillys.com LINK
LINK to Black Friday Kindle Sale at Amazon
Eligible for free shipping on $35+ orders or on ANY order with Amazon Prime.
Don't have a Prime membership? Get a one month free trial! Click here for details!
Plus use code GRAVY for an extra 15% off! Exp 11/29OldNavy.com LINK

Weekend Warrior Sale – up to 50% OFFUse code TURKEY10 to get $10 off orders of $100 or more, and code THANKFUL20 to save $20 on orders of $200 or more!
Get up to 50% off Men's Footwear during the Weekend Warrior Sale
Get up to 50% off Women's Footwear during the Weekend Warrior Sale
Get up to 50% off Kids' Footwear during the Weekend Warrior Sale
Get NCAA Hoodies and Pants 2 for $35 + Free Shipping over $30 – Weekend Warrior Sale
NCAA Tees and Shorts 2 for $25 + Free Shipping over $30 during the Weekend Warrior Sale
NBA gear for 50% OFF + Free Shipping over $30 – visit the Weekend Warrior Sale
Select socks 2 for $25 during the Weekend Warrior Sale
25% OFF Select Under Armour Hoodies + Free Shipping over $30 – Weekend Warrior Sale
Select North Face $69.99 + Free Shipping over $30 – Weekend Warrior Sale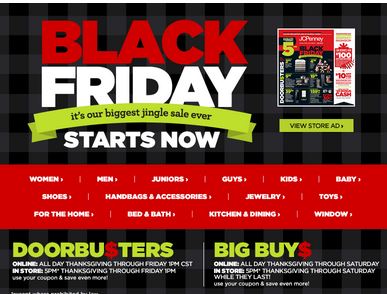 Online: All Day Thurs- 1PM CST FriDeals include….JCPenney LINK
iLive Portable Bluetooth Speaker $14.99 Friday 6AM-1PM
Tzumi Bluetooth Stereo Headphones $19.99 Friday 6AM-1PM
Dirt Devil Quick and Light Carpet Washer $69.99 Friday 6AM-1PM
Dirt Devil Vigor Cyclonic Pet Bagless Upright Vacuum $69.99 Friday 6AM-1PM
Shark Navigator Lift-away Professional Upright Vacuum $179.99 Friday 6AM-1PM
Bella 3-Liter Deep Fryer $9.99 after $10 mail-in rebate 5PM Thurs – 1PM Fri
Cooks 0.9-cu. ft. Microwave Oven $49.99 after $10 mail-in rebate 5PM Thurs – 1PM Fri
Cooks 1-qt. Mini Dipper Slow Cooker (Assorted Colors) $7.99 5PM Thurs – 1PM Fri
Cooks 10 x 19-in. Griddle $9.99 after $10 mail-in rebate 5PM Thurs – 1PM Fri
Cooks 10-speed Blender $9.99 after $10 mail-in rebate 5PM Thurs – 1PM Fri
Cooks 10-speed Hand Mixer $7.99 after $12 mail-in rebate 5PM Thurs – 1PM Fri
Cooks 12-cup Programmable Coffee Maker $9.99 after $10 mail-in rebate 5PM Thurs – 1PM Fri
Cooks 12-in. Nonstick Covered Electric Skillet $7.99 after $12 mail-in rebate 5PM Thurs – 1PM Fri
Cooks 12-pc. 5-in-1 Rocket Power Blender $7.99 after $12 mail-in rebate 5PM Thurs – 1PM Fri
Cooks 13-pc. Power Pro Blender $29.99 after $20 mail-in rebate 5PM Thurs – 1PM Fri
Cooks 4-slice Toaster Oven $9.99 after $10 mail-in rebate 5PM Thurs – 1PM Fri
Cooks 5-qt. Programmable Slow Cooker $9.99 after $10 mail-in rebate 5PM Thurs – 1PM Fri
Cooks Contact Grill $7.99 after $12 mail-in rebate 5PM Thurs – 1PM Fri
Cooks Hard-Anodized 5-qt. Chili Pot $9.99 after $10 mail-in rebate Instore: 5PM Thur-10PM Fri | JCP.com: All day Thursday
Cooks Meat Slicer $39.99 after $10 mail-in rebate Fri 2PM
Cooks Single-Serve Coffeemaker $29.99 after $10 mail-in rebate 5PM Thurs – 1PM Fri
Cooks Stainless Steel Single Flip Waffle Maker $9.99 after $10 mail-in rebate 5PM Thurs – 1PM Fri
Cuisinart 10-cup Thermal Coffee Maker $69.99 5PM Thurs – 1PM Fri
Keurig K45 Elite Single-Cup Brewer w/ Quiet Brew Technology $99.99 plus $20 mail-in rebate Fri 2PM
KitchenAid 4.5-qt. Classic Stand Mixer $199.99 after $50 mail-in rebate Fri 2PM
KitchenAid Artisan 5-qt. Stand Mixer $299.99 after $50 mail-in rebate Fri 2PM
Nostalgia Electrics Old-Fashioned Popcorn Concession Cart $99.99 after $50 mail-in rebate Fri 2PM
NutriBullet Blender $79.99 Fri 2PM
Oster 16-Speed Blender $29.99 after $10 mail-in rebate Fri 2PM
Philippe Richard 6-qt. Pressure Cooker $9.99 after $10 mail-in rebate Instore: 5PM Thur-10PM Fri | JCP.com: All day Thursday
Shark Navigator Lift-away Professional Upright Vacuum $179.99 Friday 6AM-1PM
Single Serve Brewers (Select Styles) 30-40% off Fri 2PM
Sunbeam 4-Slice Toaster $9.99 after $10 mail-in rebate 5PM Thurs – 1PM Fri
Sunbeam Classic Iron $9.99 after $10 mail-in rebate 5PM Thurs – 1PM Fri
Sunbeam Heritage Series Hand Mixer $19.99 after $10 mail-in rebate Fri 2PM
Sunbeam Heritage Series Stand Mixer $99.99 after $30 mail-in rebate 5PM Thurs – 1PM Fri
Disney Classic Doll $8.99 In store: 5PM Thurs-1PM Fri. Online: All Day Thurs- 1PM CST Fri
Disney Collection 6-pc. Mickey Mouse Clubhouse Figure Set $8.99 In store: 5PM Thurs-1PM Fri. Online: All Day Thurs- 1PM CST Fri
Disney Large 30-in. Plush (Assorted) $24.99 In store: 5PM Thurs-1PM Fri. Online: All Day Thurs- 1PM CST Fri
Disney Medium Plush $9.99 In store: 5PM Thurs-1PM Fri. Online: All Day Thurs- 1PM CST Fri
Disney Mickey Mouse 30-in. Large Plush $24.99 In store: 5PM Thurs-1PM Fri. Online: All Day Thurs- 1PM CST Fri
Disney Toddler Doll (Assorted) $14.99 In store: 5PM Thurs-1PM Fri. Online: All Day Thurs- 1PM CST Fri
Possible Codes:
Exclusive Savings! EXTRA $10 off Kmart.com orders of $100 or more with code SPECIALK10
Exclusive Savings! EXTRA $5 off Kmart.com orders of $45 or more with code SAVEATK5
Online Only! EXTRA $10 off $50 or more in Lawn & Garden with code KLAWN10
Exclusive Savings! EXTRA 10% off Kmart.com orders of $75 or more with code KMART10PSAVINGS
Home Appliances: EXTRA $10 off $75 purchase with code KMART10
Exclusive Savings! EXTRA $5 off Kmart.com orders of $50 or more with code KMART5OFF50

Samsung Galaxy Tab 4 7′ 8GB Tablet
– $149.00 – Members get $20 back in points

Kodak FZ41 16MP PIXPRO Friendly Zoom Digital Camera (Red)
– $69.99 – Members get $20 back in points

RCA 32′ 1080p LED HDTV
– $179.99 – Members get $30 back in points

Proctor 2-Slice Toaster
– $4.99

Proctor Silex Can Opener
– $4.99

Proctor Silex Hand Mixer
– $4.99

Proctor Silex Iron
– $4.99

Singer Pixie Craft Sewing Machine
– $39.99

Magic Bullet 17-pc. Blending/Mixing System
– $39.99

Hamilton Beach 8-cup Deep Fryer
– $24.99

Essential Home 3-knob Toaster Oven
– $19.99