Latest Blog Entries
Pre-Order Now New Skylanders at Toysrus.com!
I love Skylanders! I am so excited to see what it is!

There're two new coupons available to print for $1.50 off TWO Oral-B Manual Toothbrushes and $0.50 off ONE Oral-B Manual Toothbrush. This week, through 4/27/14, you can get $7 ECB when you spend $15 on participating Crest, Oral-B, or Glide products. Crest 3D Whitening Rinse is also included in this sale, so you might want to print this $1.00 off ONE Crest 3D Whitening Rinse coupon as well.
Make sure you scan your Extracare card at the red CVS coupon machine too! You might get coupons for $2.00/$10.00 or $3.00/$15.00 Toothpaste, Toothbrush, Floss or Mouthwash Purchase, making this deal even better!
Is mom asking for a sewing machine for Mother's Day? This is a great machine at a great price! This machine is loaded with features and sews extremely well. I have it and LOVE it!
Brother CS6000i Feature-Rich Sewing Machine With 60 Built-In Stitches, 7 styles of 1-Step Auto-Size Buttonholes, Quilting Table, and Hard Cover
List Price: $449.00
You Save: $303.56 (68%)
Price: $145.44
Eligible for free shipping on $35+ orders or on ANY order with Amazon Prime.
Don't have a Prime membership? Get a one month free trial! Click here for details!
How much fun are these? Perfect for ice or making other treats – awesome!
Big Ice Cube Tray – 2 Extra Large Silicone Trays
List Price: $29.99
You Save: $15.00 (50%)
Sale: $14.99
Eligible for free shipping on $35+ orders or on ANY order with Amazon Prime.
Don't have a Prime membership? Get a one month free trial! Click here for details!
Another great family movie at a great price! Perfect for a movie night or a lazy afternoon!
Race to Witch Mountain Three-Disc Edition: Blu-ray/DVD/Digital Copy
List Price: $44.99
You Save: $38.50 (86%)
Price: $6.49
Eligible for free shipping on $35+ orders or on ANY order with Amazon Prime.
Don't have a Prime membership? Get a one month free trial! Click here for details!

Intex 12′ x 30″ Metal Frame Swimming Pool INTEX
Sale Price $139.99 price cut
Reg: Original Price $149.99
Free Shipping + 5% off with Red Card!


Disney Infinity Figures
Mrs. Incredible, Dash, Davey Jones, Captain Barbossa, Francesco
Sale $6.99
$6.29 after code!
Use coupon code LASTRD10 to take 10% off!
Free shipping!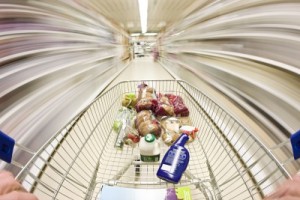 One of the tasks that most of us stay at home moms dread the most is going to the grocery store. Usually, it's packed and you have to deal with kids, as well as being distracted by some of the new items that are out. After all, who doesn't want to try those new watermelon Oreos? Sometimes, it can feel like it's a hard task to get through the grocery store efficiently and make it home with a bunch of unnecessary items. Below, I'm going to go over some tips that will help you navigate your way through the grocery store with ease, save money and also have a full fridge.
Read the Circular
I get plenty of these in my mailbox all the time and I always go through them to see what awesome sales are going on that I can take complete and total advantage of. I also go online to check out the latest and greatest deals, as well. If you're on a budget and you want a stocked fridge, you shouldn't be brand loyal. Typically, you'll see items in the circular on sell that you want, but they're of a different brand that you're not familiar with. I would suggest giving the unfamiliar brand a try, so you save money.
Stay Away from the Center Aisles
It's important that you try to keep away from the center aisles as best as you can. The perimeter is where the major of the fresh and healthy food is located, so just stick to the perimeter of the store. By skipping the center aisles you will save a lot of money and time. The only exception to this is if you need items like coffee, trash bags, seasonings, etc…
Avoid To-Go Cups or Individual Servings
It's extremely tempting to buy individual servings of items or to-go cups, because you can just toss them in your child's lunch box and be done with it, but this isn't cost effective whatsoever. For instance, my kids absolutely love yogurt and I've been able to save a ton of money just buying the yogurt in the big tub, rather than buying a to-go cup.
Look at all the Shelves
Have you ever noticed in the grocery store that the items you see directly in front of your face are the items you see mostly advertised on television? That's because these companies pay stores to put their items at eye level on the shelves, so you're more likely to go with their brand. However, you should look on the lower shelves, as well. Check out the other brands and you'll probably be able to save a good bit of money.
Avoid Impulse Purchases
Did you ever notice that when you're walking towards the checkout that there is a ton of special displays set up for you to quickly take items from? The stores put these images there for a reason. They want to lure you into making a purchase on impulse. Ignore these little special displays, unless one of them has an item you already have on your grocery list.
Online Clearance ends 4/26
30% off Online Only with code ONSAVENOW exp 4/24 (excludes clearance)
Boys clearance deals like…

Boys Pieced-Yoke Performance Fleece Jackets
Was $24.94
Now $11.99


Boys Striped Crew Tees
Was $7.94
Now $3.97


Boys Applique-Graphic Raglan Tees
Was $14.94
Now $9.99


Boys Costume-Graphic Tees
Was $12.94
Now $4.97
30% off Online Only with code ONSAVENOW exp 4/24 (excludes clearance)