I made a couple of quick run to Walgreens this week that worked out well!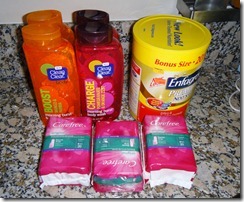 Here is what I managed to buy without too much effort.
4 Clean & Clear Body Wash $2.99- BOGO sale- BOGO MQ = free
3 Carefree $0.99 – free MQ = free
Enfamil Enfagrow $4.99 (75% off) – $2MQ = $2.99
I tried to use the $2 Walgreen Q from the Wags Baby Book on the Enfamil too. However the clearanced Enfamil didn't scan at the register, so they just rang it up as general merchandise. So the Wags Q wouldn't scan. But it was still a great deal and I couldn't pass it up. I know the food pantry would love to have it.
I always make a habit of finding the clearance section at Walgreens, it seems to vary greatly by store but you never know what you might find!
I stopped at a few stores looking for the body wash, but the shelves seem to be cleared everywhere. I actually picked up my 4 bottles early Sunday morning. If you find the shelves empty you can always ask an employee when their next shipment comes in or just get a rain check.