Are you looking for a gift to give a teenager or friend for their birthday? Look no further! This is a fun, quick, easy and satisfying gift idea for all ages! In fact, I made this today for my son's 12th birthday…as his birthday cake! He LOVED it!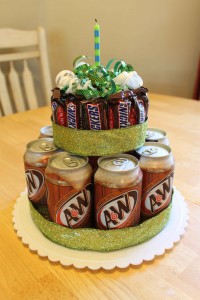 Here is what you need to make this fun birthday cake!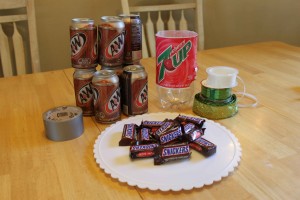 Empty 2 liter bottle (with the top cut off so it sits flat)
8 soda cans of your choice
12-14 mini candy bars of your choice
wide ribbon for the cake
thin ribbon for the top
candle
cake plate
tape


Begin by placing the two liter on the cake plate upside down (so the rutted edge bottom is now the top) and place the soda cans around it. You can place tape on the soda cans so they stick to the plastic bottle and don't shift.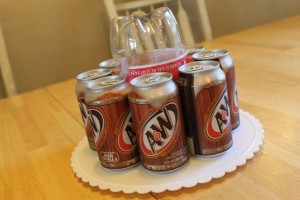 Then place the candy bars around the same way. I also used tape so they didn't fall. I placed them up a little higher as the wide ribbon would cover it.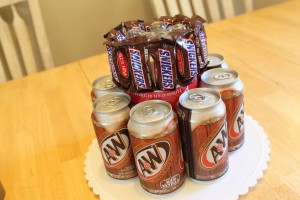 Then cut the wide ribbon to size and put it around both spots as shown. I stapled my ribbon together after measuring it and cutting it, then slipped it over where it needed to go.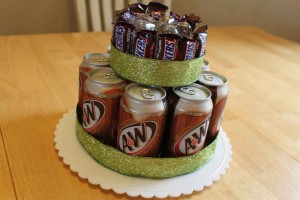 The last step is to poke a hole in the top of the bottle (in the middle of the notches) and put your candle in. I actually hot glued my candle on tonight, and it worked just fine! Then cut a bunch of thin ribbon, curl it, and tape it in place to cover the rest of the bottle. Now you have a totally fun, cute, thrifty and awesome gift for a birthday! This is a perfect idea for those who don't bake.