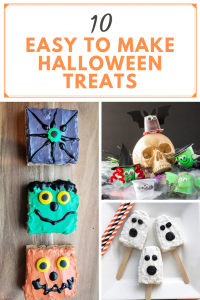 Are you looking for some easy to make Halloween treats to make with your kids this year?  I have put together a little list of some of the easiest treats I have found.  Several of which I have tried personally with my kids, and let me tell you, it was an easy task and those treats went fast when done.
Halloween Rice Krispie Treats – I made these with my toddler and while I did the faces, he was able to help with frosting and eating candy as we went.  How cute, right?!
Ghost Rice Krispie Treats – Another fun Halloween treat made with Rice Krispie Treats.
Halloween Pudding Cups – This Halloween treat requires NO MESS!  I love that!
Monster Fruit Cups – Kids love to draw faces on these Monster Fruit Cups.  How fun!
Clementine Pumpkins – If you want to avoid your kids filling up on junk food, these clementine pumpkins are an awesome alternative!
Halloween Mummy Hot Dogs – Who says your Halloween treats must be dessert worthy?  I like the idea of treating myself and my kids to a fun Halloween themed dinner too!
Halloween Cake Pops – The recipe on this one says to bake the cake from scratch, which can easily be done, but you can also buy pre-made, unfrosted cake to save yourself time.
Easy Halloween Spider Cookies – Okay, these look really easy!  I know the kids will love them too.  I love a cookie recipe that has me buying pre-made cookies!
Halloween Monster Cake – Another fun recipe that simply requires a pre-made, pre-frosted cake.  I think I can easily buy one of those and be ready for this treat making session ASAP!
Mini Ghost Pizzas – Another yummy and fun Halloween treat dinner recipe that the kids are going to love!
Okay, which ones will you and your kids be making?  We only have a couple of weeks left until Halloween, it's time to start creating!