I made it to Target twice this week.
This is what I bought: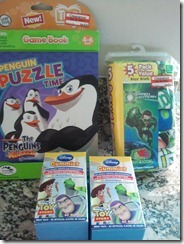 Leap Frog Tag Book (50% off) $6.98
Green Lantern Undies (30% off) $6.98
2 Disney Vitamins $4.08 – $1 TQ – $1 MQ = $2.08 each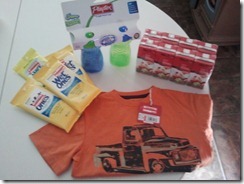 4 Wet Ones Travel Wipes $0.67 (30 % off) – $1/2 IP =  $0.17 each
Platex Sippy cups <—full price, we needed them.
Market Pantry Juice (old packaging) = $0.59
Mossimo Shirt $5.58 – $5 TQ = $0.58 (Target Q is no longer available)
This is what caught my eye:
Little boxes of Market Pantry and Fruitables Juices on first mark down. Leapster Explorer Princess Game and Globe Game at 50% off ($12.50ish)
Lots of picture frames at 75% off! Great for gifts or maybe you little one's bedroom?
I really liked the Alphabet picture. Only $5 (75% off). I might go back for it.
And the cute bat pillow was full price. But it caught my eye!

Remember clearance varies by store.