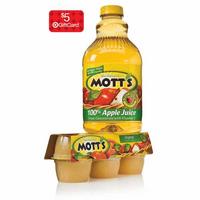 Here are a few good deals from Target this week. The Motts deal is particularly HOT!
Motts 64 oz. juice or 6 pack applesauce $1.75
Target Promo: Buy 5 (mix and match) and recieve a $5 Target gift card
Final Price: $8.75 for 5 + $5 gift card
Vitaminwater and Smartwater 10 for $10
Quaker Chewey Granola Bars $2.00
Use: .50/1 Target Printable and $1/2 Quaker Printable or
Quaker Chewy Granola Bars, any boxes .75/2 (10-10-09) RP-8/30
Final Price: varies, but as low as $1.00 a box
General Mills Cereal $2.33 (ad shows Cinnamon Toast Crunch and Honey Nut Cheerios)
Use: General Mills cereals listed, any Boo Berry, Cinnamon Toast Crunch, Cocoa Puffs, Cookie Crisp, Count Chocula, Dora the Explorer, Franken Berry, Golden Grahams, Kix, Lucky Charms, Reeses Puffs, or Trix $1/2 (11-7-09) SS-9/27 or
General Mills cereals, any $1/3 (10-24-09) GeneralMills-9/13 or
General Mills Original Cheerios, Honey Nut Cheerios, Berry Burst Cheerios, Frosted Cheerios, Fruity Cheerios, MultiGrain Cheerios, Apple Cinnamon Cheerios, Yogurt Burst Cheerios, Cheerios Crunch or Banana Nut Cheerios cereal, any $1/2 (10-10-09) SS-8/30 slc
Final Price: varies, but as low as $1.83
Here is the PYP Thread for discussion of these and other Target deals this week!