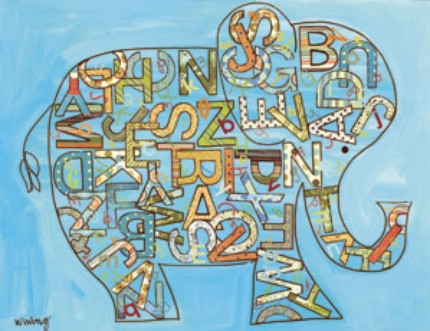 BLUE ALPHABET ELEPHANT giclee print 26″x20″ by Winborg Sister's Design

What is a Giclee print?
A Giclee print is a top quality canvas production that is hand stretched over wood bars. Each image is produced one at a time. Deep colors & amazing details are found in each print. This product makes sense for kids' rooms because it can be wiped clean & there is no glass to broken.
Winborg Sisters' Design
FINALLY, stylish & fantastic art for kids' rooms…..Having trouble finding art for your little one's room? Not anymore! Hip & stylish art that will inspire your princess, pirate, cowgirl, fireman, dancer, fairy, cowboy, robot, mermaid, superhero or whatever they dream to be. Check us out! We are sure to have something that you and your kids will love (and it won't break the bank). Mendy & Megan's art is featured in Target, Pottery Barn Kids, Oopsy Daisy Fine Art for Kids & many other fine boutiques across the country. Oh, by the way, our art is perfect for kids age 0 to 105!
Visit us at:
www.winborgdesign.blogspot.com
www.winborgdesign.etsy.com
To enter the contest:
Simply visit the Winborg Sister's Etsy store or blog (links are above) and then post in this thread on PYP and tell us which item/line is your favorite. One entry per person. (Posting on this blog post, or on our Facebook page will not not enter you into the drawing!)
You must be registered with the PYP forums in order to post in the forums and enter this contest. If you are not registered, click here to register. (Note: The Screaming Penny and other email newsletter are separate from the forums, and receiving them does not mean you are registered with the PYP forums.)