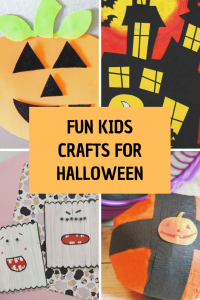 Do you have any crafting plans with the kiddos for Halloween?  If you are anything like me, you need to look for crafty ideas to do with your kids.  I'll admit it, I am the furthest thing from crafty or artistic, but I do enjoy that kind of time spent with my children.
That's why I love it when I find roundups like the one I am about to present you that are full of fun ideas of crafts to do!  No searching site to site for ideas.  Just a fun list and the kids and I can chose form that what we are going to create.
If you are ready to get crafty with them, here you go!
Fun kids crafts for Halloween
Popsicle Stick Monsters – Even as an adult I love popsicle stick crafts.  They remind me of my childhood arts and crafts in elementary school. I always loved those and these look cute!
Disney Halloween Frankenstein Craft – As mentioned, I'm not very crafty, so I love crafts that come pre-made for me!  This one is really easy to create!
Printable Haunted House Craft – Another awesome printable craft!  The best part?  It's FREE!
Halloween Party Favors Surprise Balls – If you have plans of handing out gifts to friends or family, use these awesomely fun surprise balls to wrap them in!
Monster Slime – My kids love slime!  This monster slime might just be the perfect Halloween Kid Craft.
Oozing Blood Slime – Another creepy slime recipe.  This one looks like oozing blood though.  I'm appalled, but intrigued.
Pumpkin Foam Faces Fridge Magnets – This might be the best Halloween Kid Craft yet for little ones.  Plus, you can proudly display their work on the fridge! They will love that!
Mummy Candy Cans – Arts and crafts can do wonders when it comes to teaching our children to care for the environment.  That's because some crafts are the best way to repurpose old items, like the cans needed for these Mummy Candy Cans.
Throwing up Pumpkin Centerpieces – Oh, these look fun!  My older kids are going to love these.
Halloween Tic Tac Toe – If you aren't feeling crafty, but still want your kids to do something for Halloween, try out this free Halloween Tic Tac Toe game.