Wal-Mart is the largest retailer in the world right now. It's known for its one stop shopping and low prices. As frugal people, we sometimes can't help but love this retail giant. Along with the everyday low prices, Wal-Mart has worked even harder to make sure that customers are getting the lowest prices around…with price matching.
Price matching allows customers to get the best price in town, without having to make several trips to different stores to take advantage of sale prices. To price match at Wal-Mart, customers must present a competitor's ad with the lower price during checkout. In some stores, however, this process is even easier, since many cashiers actually keep the competitor's ads under the register. Some stores even allow customers to price match items that aren't listed in an ad. It can be a bit time consuming, but it can be an awesome way to save both money and time!
Alas! That is all about to end, at least for some stores around the country.
Wal-Mart has recently announced that starting June 9, 2016, they will be putting an end to price matching and ad matching in 500 stores across the country. The kicker is, there's no official list of which stores are axing the price matching policy. To find out if their store is one of the ones ditching price matching, customers are urged to check for blue signs announcing the change at the registers.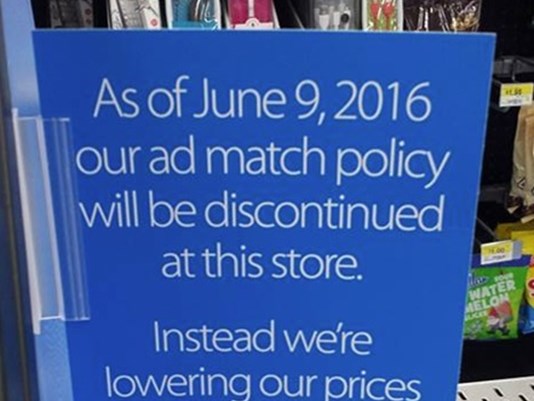 If no sign is visible and you're concerned about the policy change, you can also ask to speak to a manager about the possible change.
It seems that ditching the price matching policy is a sure way to lose some of the more frugal-minded customers—the loyal price matching hard core money savers. But, Wal-Mart has a plan to keep everyone happy.
According to the retailer, the 500 stores affected by this change will now offer significant long-term Rollbacks on thousands of items that were most often price matched. This list includes groceries, food, paper products, and more.
But, is this plan good enough to keep everyone happy? Only time will really tell, but it could go either way.
On one hand, customers who were used to price matching to save money could be disappointed and upset about this change. If Wal-mart routinely misses Rollbacks on items that are on sale at other stores some weeks, it could frustrate customers even more and potentially cause them to head elsewhere to save money.
On the other hand, an end to price matching could be a very good thing. As long as the retailer stays on top of things and continues to meet or beat competitor prices without price matching, this change could be a wildly successful one! Imagine not having to scour through pages and pages of ads each week. And, even better, imagine not having to fumble with a stack of ads at checkout to get the best deals each week. Not only could it be less stressful for frugal people, it will also speed up checkout times.
Considering that there are more than 3,000 Wal-Mart Supercenters across the country, 500 stores may seem like a drop in the bucket. However, the end of Wal-Mart price matching in these 500 stores does make me wonder if this change is a test for a more widespread change. In a few months or years, will Wal-Mart announce the end of price matchin in all stores? Only time will tell there as well. We shall see…
But, in the mean time, what's a frugal coupon chick to do without price matching? The good news is there are still several ways to save big at Wal-Mart even without price matching…
Wal-Mart Savings Catcher
Although the ad matching is ending for some Wal-Mart customers, the Wal-Mart Savings Catcher program is still alive and kickin'! You can still download the Savings Catcher app and scan the barcode on your Wal-Mart receipt to save money. (Or, you can go to the Wal-Mart Savings Catcher page and type in your receipt number.) This does all of the ad matching and price comparison for you, and if the Savings Catcher finds a lower price, you get the difference back.
The only catch is, you must use the money that you get back at Wal-Mart. I have to be honest and tell you that when I first heard about Wal-Mart ending their ad-matching policy, the first thing I thought was that they wanted to push people to use the Savings Catcher app instead. The money that you get back can only be used at Wal-Mart, which essentially gives them more business in the future. From a business standpoint, it makes sense. Of course, if you're a regular Wal-Mart shopper, this shouldn't make much of a difference to you.
Although they're doing away with ad-matching competitors, the handful of Wal-Mart stores that this change effects will still allow price matching items from Walmart.com. So, if you find a lower price online, you can still head to the store and get it for the lower price. Or, if you don't feel like searching through the store for that particular item, you can always buy it online and pick it up at your local store for free at a later date.
Coupons
Coupons, of course! How could we forget about using coupons! Even without price matching, you can still shave a bundle off of your weekly grocery bill by using manufacturer coupons. If Wal-Mart does stay true to their word and lower prices on commonly price matched items, just using manufacturer coupons can save you a bundle!
You can, of course, use the coupons found in the Red Plum and Smartsource inserts in your Sunday paper. You can also use printable coupons from places like Coupons.com, RedPlum.com, and Smartsource.com.
Grocery Rebates
Grocery rebates are a fantastic way to save even more money on the necessities that you buy each week! Use apps like Ibotta and Checkout 51 to get back money almost every time you shop. Just make qualifying purchases and get back the amount of the rebates in your account. Many frugal shoppers love grocery rebate apps, since it means no fumbling with paper coupons at the register. Another great thing about grocery rebates is that they can usually be used in combination with paper coupons, so you can maximize your savings!