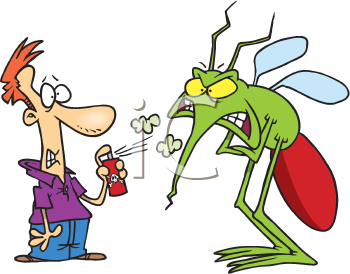 Making your own bug spray isn't something that you've probably thought about before but we recommend that you start thinking about it. Not only can you save a ton of money but you can also ensure that your bug spray works. In fact, there are actually a few different household items that you can use in replacement of bug spray that tend to work very well. Interested in finding out what these items are? If so, scroll down and look at the list below!
Vinegar
We've heard a lot of success stories about vinegar and how much it can help you get rid of pests such as ants, flies, and even mosquitoes. Use it around your home but avoid using it indoors as it could actually attract more bugs than you already have. For best results, try mixing it 75/25 (mostly vinegar) with warm water and using a spray bottle to apply it.
Soapy Water
If you've ever messed around with homemade bug sprays before, this is a remedy that you have probably already heard of. Take some of your favorite hand soap and mix it with warm water at a 50/50 mix. Then, you can apply it to areas around your home to rid them of bugs. The best use for this mixture is against fleas and it's safe to apply directly to your pets. If you don't have hand soap, try the same mixture but with some type of lotion.
Tea Tree Oil
Think of this one as kind of a universal bug spray. It works well on almost any type of bug that you could possibly think. All you need to do is take some tea tree oil and mix it with distilled water and vegetable oil. Mix these as evenly as possible and spray around your home with a good spray bottle. This should last for a few months but if you notice that the effects of it are starting to wear off, feel free to apply more anywhere around your home.
Apple Cider
Finally, the last homemade bug spray that we have for you is made of apple cider. This may seem a little contradictory to what you've been told in the past as apple cider has a sweetness to it (we've all been told that bugs love sugar). Mix this with some mint leaves and you'll quickly see it work its magic. This mix can be applied inside as well as outside.
So, the next time you have some pests in your home that you'd like to get rid of, you know a few remedies that will do the trick. Feel free to play around with any of these mixtures and see which one works best for you. The only way to find out if something works is to try it so don't be scared to try them all even if one has already worked for you. Finally, please pass this along to your friends and family as everyone can benefit from homemade bug spray. Now, what are you waiting for? Let's get out there and eliminate those pests!