I mentioned on facebook that I make really good pancakes, and so many people asked for the recipe that I thought I'd share it here, too.  I had used the same recipe for years…just the one out of the Better Homes and Gardens cook book but when I saw a recipe in a magazine called Perfect Pancakes,  I ripped it out and tried it.  They were pretty good, but I made a few adjustments and now they really truly are perfect. Enjoy!
Pumpkin Chocolate Chip Pancakes
1 1/2 C. Flour
3 T. Sugar
4 tsp. Baking Powder
1/8 tsp. Salt
Pumpkin Pie Spice (1-2 tsp. to taste)
2 Eggs
1 C. Milk
1/4 C. canned Pumpkin
Mini Milk Chocolate Chips
Stir together flour, sugar, baking powder, salt and Pumpkin pie spice. Separate eggs and whisk yolks in a small bowl with milk and pumpkin.
With an electric mixer, beat egg whites to stiff peaks. Stir pumpkin mixture into flour mixture just until combined; batter will be lumpy.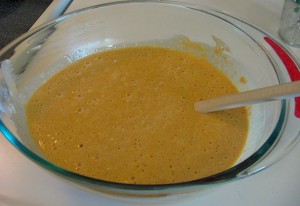 Fold in the egg whites, gently, just until no white streaks remain.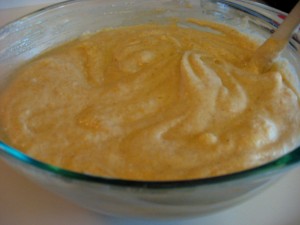 When whites are almost all mixed in, add half a bag of chocolate chips.
Cook…well…you know how to cook a pancake.  I use butter flavored Pam so that I don't need to put butter on the finished pancake. Serve with syrup.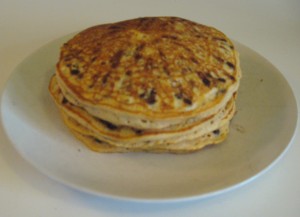 Notes:  Using pumpkin in place of oil makes this a better-for-you pancake.  I sometimes make it with whole wheat pastry flour to make it even better.  It is super yummy with apple slices that have been boiled with a little brown sugar instead of syrup.
I like the mini chocolate chips instead of regular ones, because the regular sized ones tend to sink to the bottom of the batter when you cook them and then they melt and burn when they come in contact with the hot pan.  I prefer milk chocolate, but my husband likes semi-sweet.  They are also pretty good with butterscotch.
These pancakes are light and fluffy; if you like a denser pancake, add the whole egg in with the milk and skip the egg white part; they're still yummy that way.