When I bought the clothesline for this project, I also bought several packages of the red and blue because I thought it was so pretty.  I found it in my craft drawer last week…red and blue?  Of course; perfect for July!
I started with some oval plastic frames that I found at the local thrift store.  They are all different, I just made sure they were similar in size.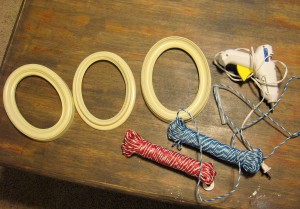 Using hot glue, I wrapped the frames with the clothesline.  I wrapped one frame in the blue and white, one in the red and white, and one in both.  You can see that in the picture below; I just held both pieces of the clothesline side by side as I wrapped.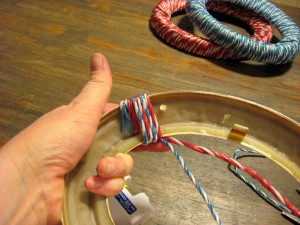 Once those were all finished, I measured to see what size star would fit best on them and drew a pattern.  Because I have a scroll saw and a garage full of scrap wood, I cut out my own stars, but you can buy them ready to paint from a craft store.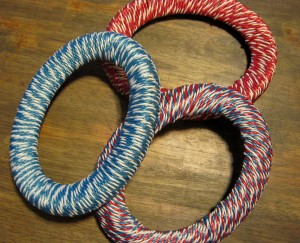 I used three large stars and three small ones.  I sanded them, painted them, then sanded the edges once the paint was dry.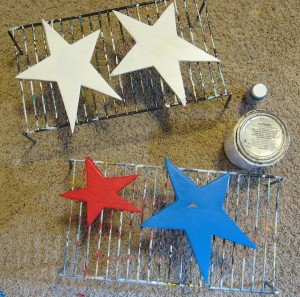 Now I placed the large stars on the oval frames and arranged them so they were just how I wanted them.  I carefully marked with a black Sharpie where each point of the star would touch the frame.
I put generous amounts of hot glue on those marks and adhered the star to the frame.  Then, I hot glued the smaller stars on top of the larger stars and pressed it all together while it set.
I played with several different configurations to hang the frames, but finally decided that I liked them hanging vertically the best.  Because I like to reuse things and craft with what I have on hand, I chose to use the top decorative board from some long-gone window blinds that I had lying around in my garage.  You could easily just use a long, narrow board, or even a wide ribbon.
I drilled a hole in the top of the board for hanging,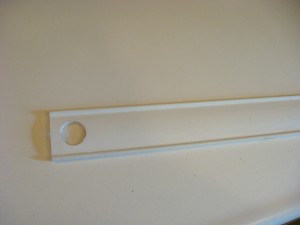 then hot glued the frames in place.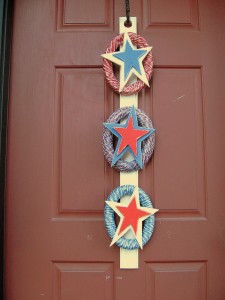 Next project?  Paint that front door!!