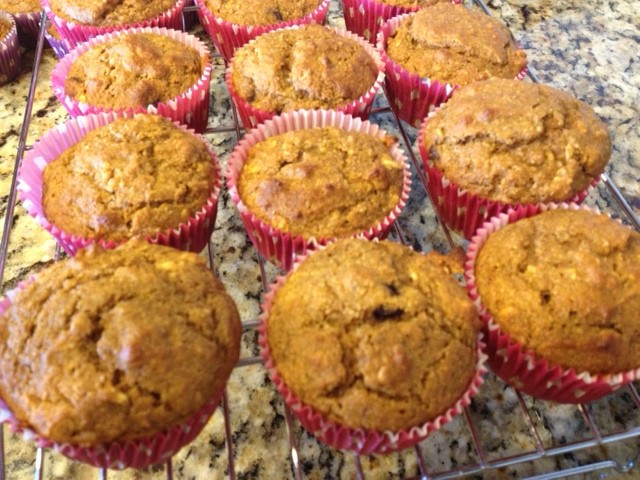 As a mom, I'm constantly trying to sneak in those extra healthy foods we should be eating into my kids diets. If there is a way to eliminate white sugar from their meals and slide in an extra vegetable or two, I'm your Guinea pig. (and my kiddos are too)
As I try to improve our diet and shake out the white sugar, white flour, preservatives, dyes and anything else we shouldn't be eating, I always end up turning to the internet to find more information.
There are plenty of clean eating options, great blogs with recipes and an endless source of opinions. If you search the internet you will find some clean eaters are more extreme than others. I would call myself "a middle of the road clean eater." I want it to be healthy and I want it to taste good. Lucky for us most natural foods do taste good.
This recipe for Pumpkin Oatmeal Muffins received a thumbs up from my entire clan. I made it with homemade pumpkin puree that I preserved last fall. Pie pumpkins grow easily in the garden, so if your interested in giving this a try, plant you pumpkins now and follow my link.
I have to admit Pumpkin Chocolate Chip Bread from Great Harvest Bakery is a favorite in our home. These are a much healthier version in a muffin and were gobbled down by my boys this morning. We did add some chocolate chips to a batch because everyone needs a treat once in a while. Who can pass up chocolate? Not me.
PUMPKIN OATMEAL MUFFINS
Ingredients:
1 cup whole wheat flour
1/2 cup almond flour
1/2 old fashioned oats
1/2 cup chopped walnuts or almonds (optional)
2 teaspoons baking powder
2 teaspoons pumpkin pie spice
1/2 teaspoon baking soda
1/2 teaspoon natural sea salt
1 cup cooked pumpkin flesh, or winter squash or sweet potato
4 egg whites or 2 whole eggs
1/2 cup natural honey
1/2 cup sour milk (add 1 tsp lemon juice)
1/4 cup ground flax seed
Directions:
1. Preheat oven to 375 degrees F. Line muffin tins with paper muffin liners.
2. Combine all dry ingredients in one bowl.  Set aside.
3. Combine all wet ingredients in another bowl.
4. Add dry ingredients to wet ingredients.  Mix until just combined.
5. Drop spoonfuls of batter into muffin tin.  Fill to top.  
6. Bake for 25 minutes until just golden on top. Remove from heat and let cool on wire rack.
Yield:  Makes 12