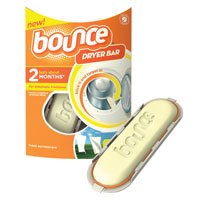 Did you get the great Bounce Dryer coupon from Vocalpoint last month? I ended up getting my Bounce Dryer bar for just over $1. After using mine for a month I thought I would give you a product review.
What I Liked:
I don't have to remember to put a dryer sheet in every time I dry clothes
It smells really nice and the clothes have a good scent, not too strong either
Directions were very easy to follow
Design is simple and sleek
What I Didn't Like:
It is wearing out quicker than I thought it would. I know it wears out faster the more it's used but I still hoped it would last at least 2 months. It will wear out soon and I have used it barely a month.
Static cling is still there. That's one thing I loved about dryer sheets. They soften

AND

take care of static cling.
It's more spendy than dryer sheets
Even though I did like it, I think I will stick to dryer sheets from now on. The static is driving me crazy!
If you tried the new Bounce Dryer bar, what did you think?