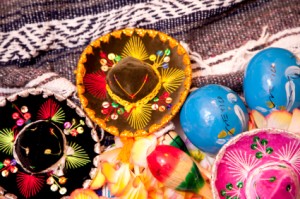 Gathering friends together to celebrate Cinco de Mayo is a great reason to party and can be fun. It can also be an easy way to blow your budget as well. If your tempted to throw a party for Cinco de Mayo but are worried about spending a fortune don't let that hold you back. Here are a few tips for throwing a great fiesta on the cheap.
Tip # 1
Shop the Dollar Stores
Dollar stores are a great place to buy the perfect decorations inexpensively. Bright colored streamers are always in stock and are a quick fix if your lacking in decorations. It's also a great place to pick up party favors. Often you can find similar items that they carry at the party supply stores for a fraction of the cost.
Tip #2
Buy In Bulk
Shopping at warehouse club store like Sam's Club or Costco can be a great place to pick up the items you will need in large quantities. Paper goods like napkins, cups and plates can be expensive. Buying in bulk is one way to pinch your pennies and the best way to go if your going to have a large gathering.
Tip #3
Make it a Potluck
Food is always one of the most expensive items at any party. Th cost can add up quickly. Invite your guest to bring their favorite mexican dish to share. This is a easy way to pull a party together quickly, enjoy everyones's dishes and lessen the expense of food.
Tip #4
Create Your Own Play List
Forget hiring a D.J. with today's technology you can be your own. Create a playlist on your computer or Ipod. After you've made your own mix burn it to a CD or set up on iHome. Let your music play for the perfect background party music.
Use these tips to pull together a fun and frugal Cinco de Mayo!