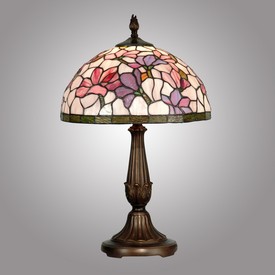 ShopKo is currently offering their clearance items for up to 75% off. This beauty above, a Dale Tiffany "Magnolia" table lamp, is listed online for $59.99 with just $5 shipping on all orders. The original price is $199.99. But wait – it gets better!
If you go in to your local ShopKo store, you may be able to score this little lady for $19.99 – yes, that's really $19.99!!! That's 90% off!
I saw several in two different ShopKo locations yesterday, all marked down to $19.99.
[If you find one and it doesn't have the 19.99 clearance tag on it, have them scan it at the register – mine still rang up at 19.99 in their system. I even asked them to double-check that it was the correct price, and they said it was!]
You may have to scour the store (in one store they were on an endcap by hardware/sporting goods, and in the other store they were back with the exercise equipment) – but check in the lighting section first – you might get lucky and find one right there. [And don't worry – of the four I saw, I only bought 1, so there are at least 3 left for others to grab!] You can also check online and put in your zipcode to see if the item is listed in stock at a store near you.