Black Island Farms
3178 South 3000 W Syracuse, Utah
More info and coupons available at this link.
801.774.MAZE (6293)

4 MAiZEs — 24 Acres of Fun — The largest cornfield maze in Utah! (Our largest maze this season is honoring Twilight-New Moon.)
Black Island Farms tickets includes admission to the Courtyard and all of its attractions, including Kiddie Corral, plus the Cornfield MAiZE. Some activities have additional fees, such as Pumpkin Bounce ($1 entry ticket), Corn Cannon ($1) and PaintBall Shoot ($1 per cup of balls)
Cornfield MAiZE
Open September 18 to October 31, 2009. Monday-Thursday 4-10pm. Friday 4pm-midnight. Saturday 10am-midnight. Sunday 1pm – 5pm.
Open 10am to midnight on Thursday and Friday of UEA weekend.
Adults (over age 12) $10 Children (age 3-12) $8 Age 2 and under are free.
Farm Hayrides
We have four tractors constantly working, taking folks on our popular hayrides around the farm.
The trail takes you under a bridge that connects two cornfield MAiZEs and out to the Pumpkin Patch.
Adults (over age 12) $8 Children (age 3-12) $5 Age 2 and under are free.

Get a Combo!
This includes the MAiZE and a hayride
Adults (over age 12) $15 Children (age 3-12) $10
Nightmare Acres
The haunted MAiZE is open Thursday from 7pm til 10pm
Friday and Saturday from 7pm til Midnight
Open Thursday and Friday of UEA weekend also with the hours of 7pm til Midnight
Admission $15 per person (all ages) — Combo with regular MAiZE $20 per person (all ages)
Not recommended for children under age 12
_______________________________________________________________________________

Little Bear River Bottoms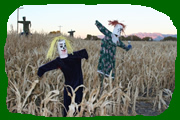 More info at this link
½ mile south of the Wellsville Burger King on Highway 89/91- east side Look for the Giant Scarecrow!
Parking: all along north side of dirt road (perpendicular).
We Feature:
* 2 Awesome Corn Mazes!
* Haunted Hay Ride/ Haunted Barn
* Spooky River Trail
* Jungle Grass Maze
* Concessions
Prices
* Mazes only: Kids 3-12 $4 – Students w/ID $5 – Adults $6 – Family $25*
* All Mazes and Spooky Barn Ride: -Kids 3-12 $5 – Students w/ID $7 – Adults $8 – Family $30*
* All Mazes and Haunted River Trail: -Students w/ID $8 – Adults $9
* All Mazes, Spooky Barn Ride & Haunted River Trail: – Students w/ID $10 – Adults $12
* Under 3 yrs.- Free
Hours: Mon.-Thurs. 5-10 p.m. Friday & Saturday 5-11 p.m.


_______________________________________________________________________________

Hogle Zoo: Boo at the Zoo
2600 East Sunnyside
Salt Lake City, Utah 84108
(801) 582-1631
More info at this link
Saturday, October 24, 2009
Times: 9:00 AM – 3:00 PM
Kids 12 and younger can come in costume to trick-or-treat at various candy booths set up throughout zoo grounds. Trick-or-Treat bags will be provided (while supplies last), or bring your own and join us for one of the biggest events at the Zoo!
Parking is limited. Please carpool and do not park in designated no parking areas.
_______________________________________________________________________________
Gardner Village
1100 West 7800 South • West Jordan • Just 12 miles south of downtown Salt Lake City • 801.566.0917
More info at this link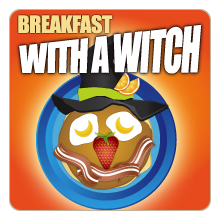 Breakfast with a Witch
Let your little witches and warlocks enjoy Breakfast with a Witch! Receive a bewitching welcome as you enter the Witchapalooza Dining Hall at The Gathering Place. Enjoy a delicious buffet of fresh fruit, frighteningly fluffy scrambled eggs, haunted hash browns, bewitching bacon, paranormal pancakes, Frankenstein's French Toast, and of course your favorite bubbling beverage of hot cocoa, coffee or orange juice. As you dine, our whimsical witches will entertain with wonders and cackles. They'll mingle with you signing autograph sheets, taking pictures and casting spells. The price is $10 per person and will be held on October 1, 2, 3, 10, 17, 24 and 31 from 9 am to 11 am.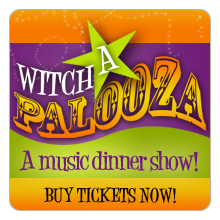 Witchapalooza
Enjoy an evening of dinner, music and bewitching fun as the Witchapalooza Dinner Theater returns to The Gathering Place.
Our beloved Weston the Warlock and his crazy cackling witches are back for another year of memories, music and fun as he seeks to find his true love. Enjoy traveling through the decades with colorful costumes, witty dialogue and an extraordinary musical score. Add to the mix a delicious dinner, and you have the makings of an ideal outing for the whole family.
_______________________________________________________________________________
Coming in Parts 2 & 3 (& possibly 4!)
Cornbelly's
Green Canyon Farms
American West Heritage Center
American Fork Haunted Forest
HeeHaw Farms
Heber Valley Railroad Haunted Canyon
Big Foot Corn Maze
North Logan Pumpkin Walk
Pack Farms
Monsen Farm
Crazy Corn Maze
Mabey's Pumpkin Patch
Wheeler Historic Farm
Benson Grist Mill
Punkinaze Corn Maze
Texas Pride Barbeque
South Ridge Farms Pumpkin Patch Hayride