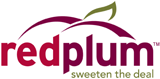 This part of the Red Plum (other major cpn insert publisher) has a SweetFinds page highlighting some of the best printable cpns found on the Red Plum site. Must see!
Some of the better ones, include:
*$50 Printable Cpn for Transfer to Rite-Aid (expires 6/30)
* $5 off $25 Online Cpn Code for Sally Beauty Supplies
* BOGO cpn at Baskin & Robbins for new soft-serve mix in shakes think DQ's Blizzard)(Expires 6/21)
* $5 off online purchase at Home Depot! Combine with FREE Shipping offers to get some great cheapie items for home use.
Past dates have other great cpns/online codes. Definitely worth a bookmark!